Here are some AI Tools lists gathers along by reading posts on LinkedIn.
From: Zain Kahn © @heykahn
Try these Al tools to save 100+ hours every month: (LinkedIn Post)
Be a Sketch artist with Scribble Diffusion
From LinkedIn Post: […] The application uses the latest in artificial intelligence technology to transform the users' sketch into a visually stunning image. […]
Users may create a basic drawing, add a text prompt, and have Scribble Diffusion generate pictures based on the sketch. The software is free and open-source.
This is the default example that was proposed on the page: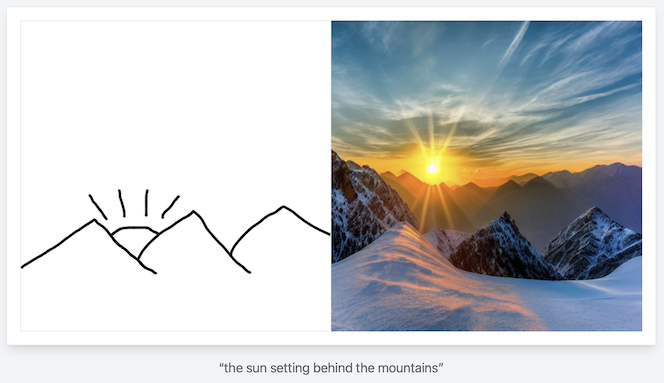 12 AI tools for everyday use.
From LinkedIn Post: Note: The image did not have links built in.
Awesome AI Websites that will save you hundreds of hours
From LinkedIn Post (link might not be visible for non LinkedIn members. BUT Content is below…)
🚀 Awesome AI Websites that will save you hundreds of hours 🤖
📌 1. Poised https://www.poised.com/
AI-powered communication coach that helps you speak with confidence and clarity. Best tool for digital workplaces to win your next presentation, interviews and customer call. 
📌 2. Ocoya https://www.ocoya.com/
A platform to create and schedule content quicker. Social media, content marketing and copywriting – with the power of AI.
📌 3. Beautiful AI https://www.beautiful.ai/
It's the first AI presentation maker that can create presentation in seconds.
📌 4. Vidyo AI https://vidyo.ai/
Create social ready short clips from your long videos with AI. Vidyo automatically selects, edits and captions top moments from your videos. Save 90% time and effort.
📌 5. Stockimg AI https://stockimg.ai/
generate AI logo, Stock image, UI, Wallpaper and more in just seconds.
📌 6. Flair AI https://flair.ai/
AI design tool for branded content.
📌 7. Wordtune https://www.wordtune.com/
Say exactly what you mean through clear, compelling and authentic writing.
📌 8. Tome https://beta.tome.app/
Tome helps you to generate powerful stories in seconds. Tome uses DALL·E 2 tile to create compelling images, tailor-made to bring your idea to life.
📌 9. Iconifyai https://www.iconifyai.com/
Create professional app icons with AI in seconds
📌 10. Synthesia https://www.synthesia.io/
Create videos from plain text in minutes